Saturday, October 26, 2013

Rescues and Vendors: Submit your entry form today! Entry form located on this website.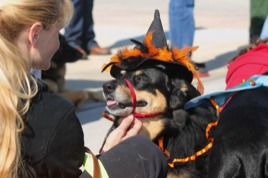 Get ready for BARKtoberfest 2013!
It's estimated that over 7,000 attended BARKtoberfest 2012 on Saturday, October 27, 2012 at Rayola Park in Owasso, Oklahoma. Many braved the cold weather and took advantage of the services provided and enjoyed a day visiting the many rescue groups and venders that attend.
We have already started planning BARKtoberfest 2013. This will be our sixth annual event and we are planning an event to remember!
Keep checking back for updates as we announce who will be attending and what activities you can expect.
The 2013 host is:
Owasso Animal Shelter