BARKtoberfest 2015

Saturday, October 24





The Owasso Animal Shelter will be hosting BARKtoberfest 2015! Please 'LIKE' our Facebook page to support the event and keep updated on the latest information.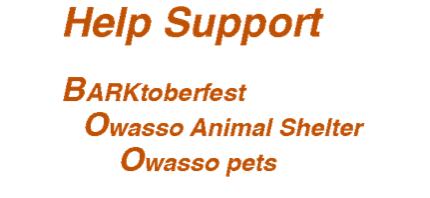 Your donation helps BARKtoberfest Owasso, the Owasso Animal Shelter and homeless/disadvantaged pets of Owasso and surrounding area.

Become a sponsor and make a difference in your community. Your donation WILL make a difference. Click the 'Learn More' button for more detailed information.

You may also contact us at 918-585-1144.



Check out what BARKtoberfest has to offer!

We keep updating information as the event grows, so please keep checking back.